Super Silk Hair System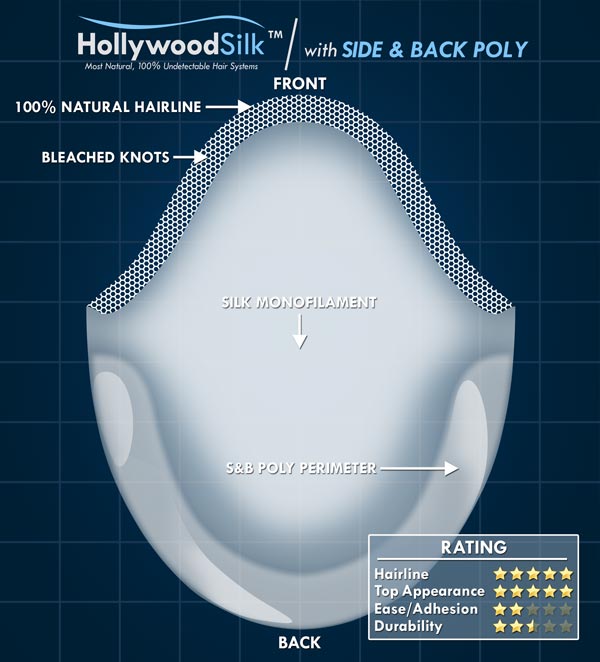 Super Silk w/ Side & Back Poly
The New "Super Silk" Hair System w/ a Side & Back Poly is our one of the most invisible Hair Systems in the world today. The very front 3/4 inches is composed our our undetectable Hollywood Lace. Then the Hollywood Lace is joined by a second layer of Silk Monofilament. Then each hair is pulled through this second layer one hair at a time. The effect the hair looks like it is growing right from your own scalp. There is no tangling, no knots, and the most natural Hair System appearance ever.
Special Offer!
Only $279
Reg. Price $599
Expires 04/30/2018


(Choose Hair Color, Density etc... after adding to cart)
* There is an additional fee for bleached knots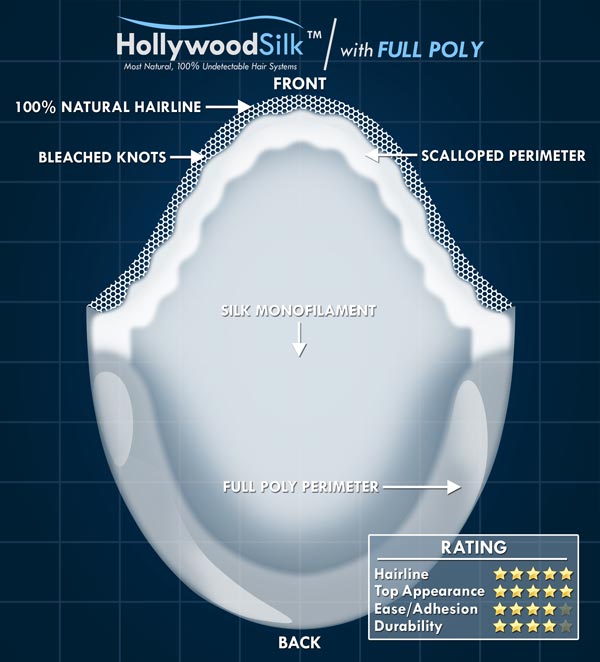 The Super Silk w/ Full Poly has all the great benefits of the Super Silk w/Side & Back, but provides a more robust hold for travelers, athletes. The full poly perimeter allows you to get the same amazing benefit of the dual layer hair unit, but make sure it stays on for a long time. The front 1/3 inches is our Hollywood Lace then joined by two layers and the full poly which is scalloped both sides to make it undetectable to the eye.The hair looks like it is growing right from your scalp, no knots, no tangling, and durable.
Special Offer!
Only $279
Reg. Price $599
Expires 04/30/2018


(Choose Hair Color, Density etc... after adding to cart)
* There is an additional fee for bleached knots