Hair Systems, Hairpieces, Hair Replacement System Cut In Service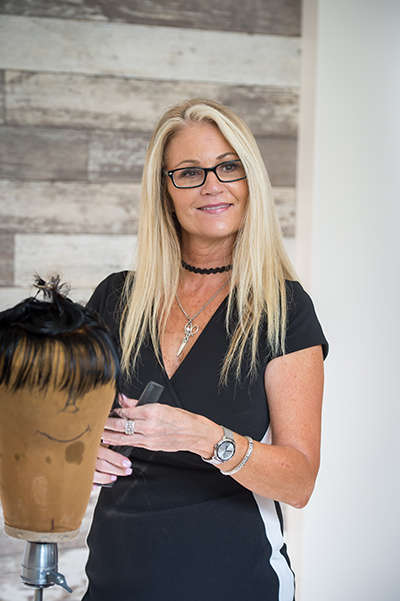 Hair System Cut, Styled, and Ready To Wear
What to do if I don't have a Cut In Specialist near me or A full cut in service is too costly for my budget?
Kimmy B and her team can cut, style, and blend your hair system perfectly. It is as easy as 1,2,3. If you have a current Hair System you like just let us know the length of the front section, top section, sides, and back. That is all we need. Kimmy B or one of our Salon Cut In Specialist will cut to that length and most importantly razor blend the back and side to blend perfectly into your own existing hair. If you have a certain hair style you want it to be cut just email us a photo at [email protected] with your order number. Kimmy B and her team will style it to that style and make it even better. Keep note, many clients just advise the length and do not send photo. A photo is not required to have your Hair System blend perfectly into your back and sides. However, a picture is certainly a good thing if you want a specific Hair Style. So Order A Custom Hair Cut & Style with your order. Your Hair System will be Cut, Styled, and Ready to Wear out of the mail box. It doesn't get any easier then that.
How To Add A Hair Cut?
On your order form whether a Stock Hair System or Custom Hair System Add a Hair Cut. We will will add $49 to your order. Then checkout and when your Hair System arrives at our offices it will go immediately to our Kimmy B and our Salon to cut, style, and blend it. Then it will be sent out to you. When you get your Hair System just put on your adhesive and its ready to go.
If you ever have any questions or need help never hesitate to contact us at [email protected]lace.com or 954-505-7000. Thanks for your business. We appreciate the opportunity to serve you.