Toupee, Hair System, Mens Hairpiece, Cut In Service For Stock or Custom Hairpieces
Hollywood Lace is privileged and honored to have the highly recognized Hair Replacement System Hair Stylist Carmela Ragucci to lead our Salon team. In addition to being recognized as one of the best Cut-In Specialists in her own right, she has trained thousands around the world how to correctly cut-in Hair Systems.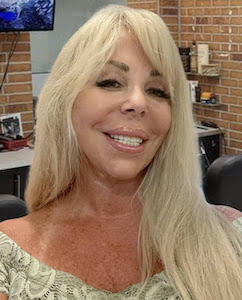 Carmela has been styling, attaching, and blending Toupees and Hair Systems for Men and Women for over 18 years. As an Italian growing up in New York she learned the Master Art of Razor Blending from a true Wig Master. She has been applying and teaching these Toupee styling techniques to Hair Clubs large and small all over the world. Now she is at Hollywood Lace leading our Salon Team. We feel lucky and grateful to have her on our team.
Please note, when we refer to cut-ins we are talking about clients coming into the Salon personally for a haircut. When we refer to cut-away we are talking about cutting, blending, and styling a Hair System without it being on the client's head. We take the instructions and/or a picture and cut, blend, style, and the styled hair system is delivered ready to wear.
What is better? A cut-in or cut-away? Can a hair system that is cut-away look as good as one that is cut-in?
"I still do full cut in service for many of my longtime customers, snowbirds, and do take on some new clients as my time allows. I think there is real value in full service cut-in service. I always will. However, my team and I do thousands of cut-aways a year. Absolutely yes! We are able to cut, style, and blend your hair system to look perfect and natural even if you are not there."
The most important element to make a Hair System look real, natural, and undetectable is blending. It is vital to make sure the Hair from the Hair System flows and blends into your own hair. To accomplish this we use exclusively a Razor blend technique that I was taught very early in my career by my Mentor, an old school Wig Master. Many other cut-in salons use thinning shears or apply blending with regular scissors. This is not the way to get the most natural look. The only way to blend a hair system is by applying the tedious skill requiring razor sheer blend.
How can you style my hair system if it is not on my head?
"That is a great question. The answer is very easy. By default we layer the entire Hair System evenly from the bottom to the top. We do so in a non-directional manner. This means when the client receives his or her hair system the hair style is neutral. Then they can choose to brush it back, to the side, and make bangs. Once they do this for a few days the Hair System will set to their style. Now if a client wants it pre-styled to a certain look, no problem. Just email us a picture of the style you want. You can include any specific instructions. Email to us at salonservices@hollywoodlace.com. Please make sure to include your order number in the subject line."
Can I get a full cut in service with you at the Salon?
We have Full Salon cut-on services in both Florida and New York. At this time, we are not accepting in person Salon visits in Florida. However, in our New York Salon we are accepting new clients. To inquire or set up a cut-in appointment in New York please email us at salonservices@hollywoodlace.com or call the main office at 954-505-7000 to schedule an appointment.